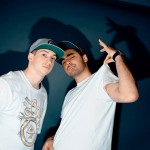 "You could call it a labour of love — specifically, love for the brand of 90s rap SawBuck and So Nice grew up listening to and haven't given up on. Forget about auto-tune and heavy bass; Buck-N-Nice rely on a few glam samples, heartfelt rhymes, and So Nice's serious turntable skills." — CBC.ca

"Ottawa's hip hop duo Buck-N-Nice are inspired by 90's rap and about to take their exploding national popularity internationally." — Ottawa Citizen
BIOGRAPHY
Buck-N-Nice were awarded the Stingray Rising Star Award presented at the 2016 CityFolk Festival.
Rapper SawBuck and beatmaker DJ So Nice are Buck-N-Nice — a Canadian hip hop duo hailing out of the National Capital Region that do not fit the profile of most artists in the genre. Unlike others, their musical concerns are beyond creating the next club hit, flashing money, or keeping up with the latest trends. Their songs are about life experiences, the community they're surrounded by, and the general influences that moulded them to the artists, and people they are today.
The duo have been busy from the get-go. Since forming, they have released a successful full length album titled Us Versus Them (October 2014), which launched them into the festival circuit, as well as headlining tours, and opened the doors for several collaborative works with varying artists within the local and international hip hop community. They are rolling out their sophomore album, EMAG, due for release in late fall 2017.
NOTABLE PERFORMANCES
They have performed alongside such acts as Non Phixion, Swollen Members, Moka Only, and Freeway just to name a few. In the 2014, Buck-N-Nice competed in the CBC Radio One's Searchlight contest, and garnering the support of friends and fans all over the world, they advanced to the regional finals, making them the last standing hip hop act in the contest. Buck-N-Nice have also had the privaledge to perform at festivals, listed below.
Notable festival performances
2014 House of PainT Urban Arts Festival
2015 Megaphono Music Showcase
2015 Canadian Music Week Showcase
2015 RBC Ottawa Bluesfest
2015 NXNE
2015 House of PainT Urban Arts Festival
2016 Marvest at CityFolk
PROJECTS AND DISCOGRAPHY
Their debut album, Us Versus Them, was released on October 9th 2014, and can be found digitally on Bandcamp, iTunes, Google Play and Amazon. Us Versus Them is a collection of past experiences put together to tell one ultimate story of change. The production is very Jazz/soul influenced, which fits the lyrical content well, with varying moods displayed throughout the project. The two worked hard to bring content back to focus, while maintaining the necessary appeal to standout. Us Versus Them is really just that. It's Buck-N-Nice versus the odds, versus the competition, versus anything in their way.
Complete Discography
Us Versus Them (October 9th, 2014)
EMAG (late Spring 2017)
LATEST SINGLES
These photos may only be used for editorial purposes, under the following conditions:
The material must be attributed to the photographer "Bilal Hamdan".
The material must not be used in a manner that falsely implies Buck-N-Nice, or any members of Buck-N-Nice, endorse a third party's products or opinions.
The material may not be used for commercial purposes.
The material may not be altered, transformed, added to or edited in such a way that its original intent and identification with Buck-N-Nice is lost.
Waiving any of these conditions requires prior written permission by a representative of Buck-N-Nice.
CONTACT US
Buck.n.nice@gmail.com
www.BUCKnNICE.com