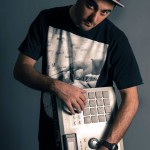 DJ So Nice is the producer and DJ half of Buck N' Nice. At the young age of 13, he began mastering his skills as a DJ. By 16, he was competing in regional DJ competitions, making a name for himself in the hip hop scene. It was at this point that he expanded his musical horizons to beat production. Working with numerous Canadian artists, he learned how important it is to the culture to promote the local scene.
Over the past 6 years, So Nice has been the host of a popular community radio show in Ottawa, where he continues to support Canadian content and assist in developing artist networks. His show can be heard every Friday night on his hip hop radio show Cypher. It airs from 9pm to 11pm on CHUO 89.1fm, and can be heard on demand on the CHUO website.
As well, So Nice hosts and DJs many events around the city. Once a month, So Nice and local MC and funny guy Atherton, put on Ottawa's Hip Hop Karaoke. Praised with a great turn out month-to-month, and steller reviews from the media, Hip Hop Karaoke has proven to be one of Ottawa's must-see events. For more information on Ottawa's Official Hip Hop Karaoke, visit the website.