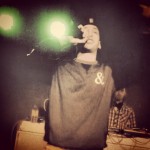 SawBuck is the rapper half of Buck N' Nice. From the lower middle/working class, he wasn't raised with his hands out, getting what he wanted. He learned at a young age, that if you want something, you better be willing to sweat for it. When it came time to take his music seriously, he was ready to grind for it and wanted to separate from the norm. Unlike many artists proclaiming false imagery of themselves, SawBuck went down a rough path, but he's more proud of turning it around than turning it into a hit record. Changing, included his musical direction.
His music reflects his character, winning over listeners with his relatable content and honest approach. He doesn't claim to be somebody that he isn't, and continuously pleases his growing fan base with genuine music that's pertinent to how he's feeling at the time each song is written. SawBuck represents the everyday, average person. His musical influences can be traced back to the golden era for the most part, but mainly anything with a jazz/soul/funk influence is where his hip hop roots are dug in. What might you find in SawBuck's headphones? Nas, Little Brother, Mobb Deep, EPMD, Wu Tang, J. Cole, Action Bronson, Gang Starr, to name a few, but the list goes on. Modern commercial hip hop is not generally where you'll find his inspiration.
Beyond his efforts as part of Buck N' Nice, SawBuck also released a full length solo mixtape over DJ Premier classic instrumentals, titled PREMOnition.
There's a lot more to come from this up and comer, as he has no plans of slowing down.